Quotes
2012.11 - folkworld.eu
2012.10 - Blues News Germany
2012.09 - Blues Blast Magazine
2012.08 - Blues n Rhythm... UK
2012.07 - Rootstime.be
2012.07 - Crossroads Blues Society
2012.07 - Bluesbytes.net
2012.07 - BluesVan.hu
2012.06 - View Magazine
2012.06 - Smoky Mtn. Blues Society
2012.05 - wasser-prawda.de
2012.05 - BmansBluesReport.com
2012.04 - hamiltonseen.com
2012.04 - Spec
2012.04 - Dave Rubin
2012.03 - TBS
2012.02 - CPR
2012.02 - News Release
2010.01 - Blues-Star
2009.04 - Press Register
2009.04 - CPR
2008.08 - Press Register
2008.08 - CPR
2008.01 - The Spec
2008.01 - BluesSource.com
2007.11 - Press Register
2007.04 - Press Register
2006.12 - Press Register
2004.11 - Worchester Mag
1992.02 - The Newspaper
1990.11 - The Spec
1989.11 - The Spec
1986.10 - The Spec
1985.03 - The Spec
1981.09 - The Spec
The Spectator, Thursday, September 3, 1981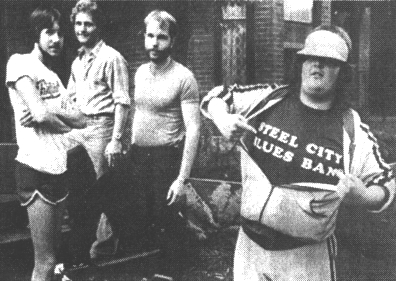 Gary Downie, Greg Simon, Greg Brown and Mike McMillan


THE HARDEST part was learning how to relax. For months, ever since his Steel City Blues Band won a UNICEF talent contest at Westdale Secondary school, 17-year-old Mike McMillan had been preparing himself. He knew the day would come when he'd have to pull out all the stops, when he'd be getting his big chance at Grant Avenue Studio. He knew Ian Thomas would be producing a three-song demo. And he knew, just knew, that everything had to be just right. Yet, when be day finally came yesterday, he still hadn't shaken the jitters. "I was a little apprehensive," he said, after the 7 1/2 - hour session was finished. "I had a rough idea of what was going to happen, but when I walked into that engine room it was like walking into a lunar module." Not to worry. McMillan and other Steel City Blues Band members, Greg Simon (bass), Gary Downie (drums) and Greg Brown (harp), found Thomas was a capable studio leader who eventually brought out the best in than. He made sure the rough edges were left on but he eliminated the individual excesses. And he helped make it a day they'll never forget.

McMillan, let it be known, was the main reason the Steel City Blues Band ended up in Hamilton's swankiest recording studio. His guitar playing and singing at the talent contest floored each and every judge.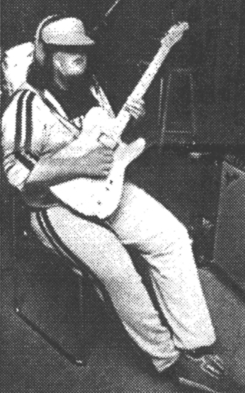 Mike McMillan



He had a maturity most 30 year-old musicians only dream about and he fully understood the rationale behind the blues idiom. Reared on the guitar/singing exploits of Johnny Winter (she's been my hero since I was nine") he also has a traditionalist style all his own. The talent contest opened doors for the group a week at Jackson Square, a pub at Mohawk College and a spot at The Festival of Friends and the demo should allow the trend to continue. When it was completed and the final mixing was being done, you couldn't help but be impressed. Thomas had taken a raw and sometimes self-indulgent unit and tightened up the loose ends. Along the way, he had to step on toes, but in the end even McMillan admitted the changes had been for the best. At one point in the after-noon, after nearly all the instrumental parts had been laid down, Thomas suggested McMillan do the vocals on the song, Hanging Around. But the Grade 12 student at Barton Secondary School didn't want to sing. He wanted to add the slide guitar parts instemic McMillan hemmed and hawed, still not satisfied with the order of things. He tried singing, but it wasn't working. Finally tried to call it quits again But Thomas wouldn't budge. 'Tell him to out a guitar on and turn it off," Thomas instructed. "He can play dead guitar while he's singing. It might make him relax more. " That seemed to rectify part of the problem, but McMillan Still had to be coaxed through the vocals. Thomas pushed, McMillan squirmed, but eventually the work was done right.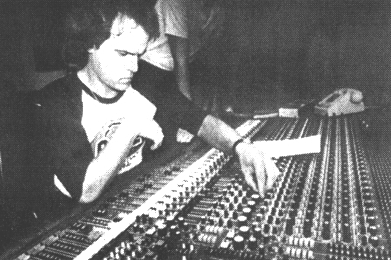 Ian Thomas

There were moments when Thomas could only shake his head in amazement. And McMillan's guitar proficiency was the reason. The kid could play. The point was, why could he play so well? You're not supposed to be able to get that kind of response on a guitar at the age of 17. Later in the day, the pieces all began falling together and the band members finally appeared to see matters as Thomas did. They heard themselves playing as they'd never heard themselves before. And they were visibly pleased. At this stage in his career, McMillan is adamant about one thing: He likes traditional blues and he never wants to change. He says he'll be perfectly content to play pure unadulterated blues until he's 95 years old. He doesn't care if he ever gets rich as long as people turn out to see him play. "I don't want this kind of music to die," he said, unflinchingly. "I just want to be comfortable playing the blues. If that means playing the bars until I die, then so be it. ' After the work was done, a drained Ian Thomas couldn't help but rave about McMillan and company. He was satisfied with his contribution and felt he'd achieved the goals he set early on. "Mainly, I wanted to let whoever listens to this demo see the raw, unrefined talent," he said "He (McMillan) is a very, very excellent guitarist. He's 17-year-old kid who plays like a 50-year-old black man.