Quotes
2012.11 - folkworld.eu
2012.10 - Blues News Germany
2012.09 - Blues Blast Magazine
2012.08 - Blues n Rhythm... UK
2012.07 - Rootstime.be
2012.07 - Crossroads Blues Society
2012.07 - Bluesbytes.net
2012.07 - BluesVan.hu
2012.06 - View Magazine
2012.06 - Smoky Mtn. Blues Society
2012.05 - wasser-prawda.de
2012.05 - BmansBluesReport.com
2012.04 - hamiltonseen.com
2012.04 - Spec
2012.04 - Dave Rubin
2012.03 - TBS
2012.02 - CPR
2012.02 - News Release
2010.01 - Blues-Star
2009.04 - Press Register
2009.04 - CPR
2008.08 - Press Register
2008.08 - CPR
2008.01 - The Spec
2008.01 - BluesSource.com
2007.11 - Press Register
2007.04 - Press Register
2006.12 - Press Register
2004.11 - Worchester Mag
1992.02 - The Newspaper
1990.11 - The Spec
1989.11 - The Spec
1986.10 - The Spec
1985.03 - The Spec
1981.09 - The Spec
Clarksdale Press Register - December 2006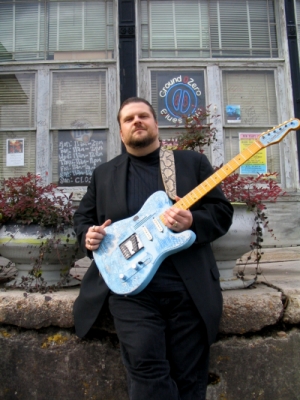 Canadian blues artist Guitar Mikey has moved to Clarksdale. One might think it because of the music but actually, he and his wife and Manager, Pamela chose tp leave his ever building presence in Boston to join this community offering a general better quality of life;

"The fact that Clarksdale has such a prestigious music history and continuing culture was just icing on the cake," Mikey said. "We chose to live here because the people are so friendly and we love the pace."

Guitar Mikey has been playing, singing and writing blues since the age of 10. By 11 years of age, he was sneaking back stage to hang out with heroes like Muddy Waters. Earning a modest income by the age of 16 playing clubs while attending high school, he built a reputation in Canada and an on-again/off-again partnership with the late Richard Newell, aka King Biscuit Boy. In his late twenties, Mikey signed a seven year contract with A&M records, only to step down from his full time pursuit of music in 1993. Like many of his peers he subsidizes his income with other work. Mikey has continued to build his reputation in the United States; four years in Chicago and six in Boston.

Guitar Mikey's talent is strong as a singer and guitar player, (be sure to catch him playing slide guitar). An awesomely deft guitarist; he can go from knock-down-the-walls power to gentle tenderness in a beat.

He has shared the stage and toured with countless names and legends; Yank Rachel, Honeyboy Edwards, Otis Rush, as well as stars Johnny and Edgar Winter, Buddy Guy, and even the late Paul Butterfield.

Now he is happy to be settled in Clarksdale, the true home of the Blues. Mikey loves to play on stage. Recording has never been at the forefront of his endeavors. He's the first to admit that completing an album (in the works for six years) needs to happen and here in Clarksdale is where he intends to do that.

He will be making his first official appearance on Thursday, Jan. 11, at Ground Zero Blues Club.