Quotes
2012.11 - folkworld.eu
2012.10 - Blues News Germany
2012.09 - Blues Blast Magazine
2012.08 - Blues n Rhythm... UK
2012.07 - Rootstime.be
2012.07 - Crossroads Blues Society
2012.07 - Bluesbytes.net
2012.07 - BluesVan.hu
2012.06 - View Magazine
2012.06 - Smoky Mtn. Blues Society
2012.05 - wasser-prawda.de
2012.05 - BmansBluesReport.com
2012.04 - hamiltonseen.com
2012.04 - Spec
2012.04 - Dave Rubin
2012.03 - TBS
2012.02 - CPR
2012.02 - News Release
2010.01 - Blues-Star
2009.04 - Press Register
2009.04 - CPR
2008.08 - Press Register
2008.08 - CPR
2008.01 - The Spec
2008.01 - BluesSource.com
2007.11 - Press Register
2007.04 - Press Register
2006.12 - Press Register
2004.11 - Worchester Mag
1992.02 - The Newspaper
1990.11 - The Spec
1989.11 - The Spec
1986.10 - The Spec
1985.03 - The Spec
1981.09 - The Spec

Charlie Moore - Clarksdale Press Register - April 18th, 2007

For several months now, I have talked with Stone (Ellis) about starting a section of the paper dedicated to entertainment, especially with the increasing number of new artists that are migrating to the Delta for the slow-paced charm of the south and, of course to be in the Mecca of where it all began.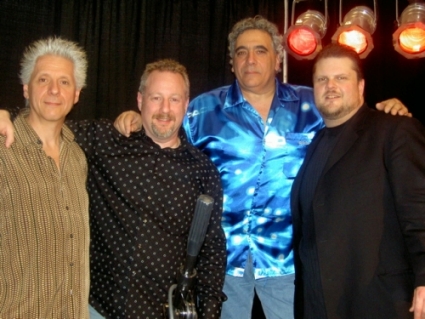 Most local people are aware of the musicians who play here on a regular basis; but over the weekend, many of our guests I spoke with, read the Clarksdale Press Register via the internet.

This leads me to believe that the entertainment section will give fans of the Delta blues worldwide, a way to access what's going on in "Bluesville" year 'round.

So I landed at the front door of Bluesberry Café to check out one of our newest transplants, and do I have some bad news for those of you that missed what I witnessed Friday night in downtown Clarksdale a packed house, four guys from Boston, thunder and lightning and a chilly rain. Say, can it get any bluer?!?

Well, the thunderstorm and lightning show outside held no candle as to what went on inside. Inside was "on" - Guitar Mikey and The Real Thing.

From the first chord of the opening number to the last encore and standing ovation, the entire room was totally mesmerized.

This was nothing short of a jaw-drop- ping, heart-pounding, in-yer-face-blues, never before heard by my ears or anyone else in our musical mecca in several years.

As a musician myself I am not easily impressed by bands, whether it be rock, blues, country or any label that fits the bill.

I was told these guys were exactly what the band's name implies - "The Real Thing."

Now, three days later, I still can't believe what I heard.

The show at the Bluesberry Cafe was a reunion, the band not having played together since Mike and wife Pamela moved here in 2006.

The Real Thing consisted of drummer Steve Sasso, keyboards Mark Yacovone, bass player John Allouise and THE man himself, Mikey McMillan.

Most three or four piece bands sound like something is always missing - horns, another guitar or percussion. But with this quartet, I caught myself looking around to see where the other two or three members were. The sound was so full and balanced - absolutely incredible!!!

It is very hard for any band playing in a small room to get a full, balanced sound at low volume. Seems there is always some one too loud or too soft.

Not in this case.

Guitar Mikey and The Real Thing seemed to have built-in sound technicians in their heads. Without fail and through the entire evening, the band performed with the roar of a lion and the whisper of an angel - the most dynamically controlled artists I've heard in a long time.

Mike has also been deemed one of the best slide players around, and, I must say, I momentarily had my doubts until he brought out his "Dan Electro" and, without a doubt, the comment given Mikey by Paul Butterfield could not have been more precise.

Mike is also very accomplished in the style of playing what some call traditional Delta blues, where a slide/finger picking technique is used. Many have tried to copy this, but few can do it with the finesse that Mike has achieved through the years.

All evening, lick after lick, song after song, the crowd cheered, the people danced and jaws dropped in sheer amazement. Clarksdale got a taste of "The Real Thing" a blues musician second to none - and in my humble opinion probably the next legendary artist about whom we can proudly say, "Guitar Mikey? Yes, he's from Clarksdale."

Check out Guitar Mikey and The Real Thing online at www.GuitarMikey.com.

Charlie Moore is a lifelong resident of Clarksdale. He graduated from Clarksdale High School, and he is aho a musician as well as music critic.