Quotes
2012.11 - folkworld.eu
2012.10 - Blues News Germany
2012.09 - Blues Blast Magazine
2012.08 - Blues n Rhythm... UK
2012.07 - Rootstime.be
2012.07 - Crossroads Blues Society
2012.07 - Bluesbytes.net
2012.07 - BluesVan.hu
2012.06 - View Magazine
2012.06 - Smoky Mtn. Blues Society
2012.05 - wasser-prawda.de
2012.05 - BmansBluesReport.com
2012.04 - hamiltonseen.com
2012.04 - Spec
2012.04 - Dave Rubin
2012.03 - TBS
2012.02 - CPR
2012.02 - News Release
2010.01 - Blues-Star
2009.04 - Press Register
2009.04 - CPR
2008.08 - Press Register
2008.08 - CPR
2008.01 - The Spec
2008.01 - BluesSource.com
2007.11 - Press Register
2007.04 - Press Register
2006.12 - Press Register
2004.11 - Worchester Mag
1992.02 - The Newspaper
1990.11 - The Spec
1989.11 - The Spec
1986.10 - The Spec
1985.03 - The Spec
1981.09 - The Spec
Clarksdale Press Register - November 6th, 2007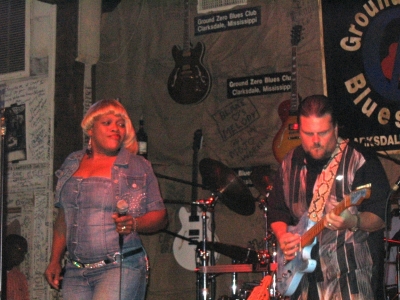 Wednesday November 7th at 8PM will be the release party for Guitar Mikey And The Real Thing's new album "Jam Zero I".

Clarksdale's most recent music acquisition; Guitar Mikey is coming out in his new home town on fire. "Guitar Mikey is really raising the bar around here, both with his professionalism and musical innovation",according to many locals, musicians and otherwise.

Since Guitar Mikey's high impact at this year's Juke Joint Festival, he has become a regular fixture at Ground Zero Blues Club. Part of that has been as a host for the Thursday Jams where he has been attracting friends like blues diva Nellie "Tiger" Travis to come and sit in. Drummer/Producer Eric Fowler (who plays with Mikey) began recording some of the Pre-Festival jams and GZBC and now it has evolved to the first of a potential series of CDs.

"Jam Zero I", the first in the series will feature Clarksdale's own Daddy Rich, Texas harp player Cheryl Arena and Nellie "Tiger" Travis. Ms. Travis originally hailing from Mound Bayou, MS has been a high profile fixture in Chicago for years. Mikey began his musical connection with Nellie while living in Chicago in the late 90s; often sharing Nellie's stage at Chicago's Kingston Mines. Mikey included Nellie in a blues review that traveled as far a Dallas Texas. This past June Mikey was invited to join Nellie on the main stage of the Chicago Blues Festival. "Nellie is not a blues belter", Mikey says. "Her smokey voice is truly soulful with an allure to trap any ears connected to a musical heart. It is always a pleasure to see her perform and a thrill to perform with her."

Mikey plans to continue bringing friends from Chicago and other places to continue feeding this music series.

Y'all are invited to help celebrate the new efforts by The Real Thing on Wednesday, November 7th. Ground Zero will be alive with the fascinating show and jaw dropping guitar licks that you can always expect from Guitar Mikey to really connect you to the blues. See you There!

National Release is tentatively slated for December 1st but pre-release copies can be purchased through at GuitarMikey.com or at the release party itself.