OUT OF THE BOX
Roots Radio Canada
Reaches #1 (4 weeks)
Blues Radio USA
Reaches #12
B.B. King's Bluesville Picks To Click
Reached #8 (listed for 3 weeks)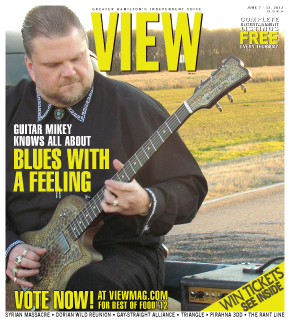 Review from LIVE
album release show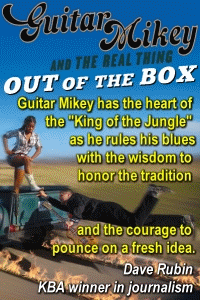 With megawatts of pure blues energy to burn...
Read more...
Buy Now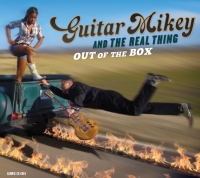 Guitar Mikey and the his band definite proof that blues is fresh and alive. With the funk of James Brown and the intensity of Buddy Guy combined with the heaviness of Led Zeppelin the band has earned the opportunity to share the bill with such artists as
The Thunderbirds
,
John Mayall
,
Johnny and Edgar Winter
and even hard rock bands the likes of
Nazareth
.
At eleven years old, Guitar Mikey had already established his destined path when sneaking back stage to meet slide guitar mentor,
Muddy Waters
. At the age of twelve he began playing in local rock bands and at sixteen, began fronting the critically acclaimed - award winning
Steel City Blues Band
. Later, this band would feature, and then back Canada's
King Biscuit Boy
. Over the years Mikey has been seen from Toronto to Buffalo, Chicago, to Boston, and now in his new home of Clarksdale, Mississippi sharing the stage with the likes of
Honeyboy Edwards
,
Yank Rachel
,
Buddy Guy
,
Otis Rush
,
Billy Branch
,
Carl Weathersby
,
Long John Baldry
and
Paul Butterfield
. Many Hamilton fans remember the years of Mikey's regular Sunday night where he helped build the popularity of Hess Village's club, The Gown & Gavel. Here Guitar Mikey would regularly have musicians sit in like
Carey Bell
,
Phil Guy
,
Eddie Kirkland
,
Eddie Shaw
,
Luther Tucker
,
Don Walsh
to name a few. Most recently he has reached his final destination, Nashville, TN area. This is where he continues to work on the music he loves.
Guitar Mikey live, is HOT, HEAVY and ELECTRIC. Their recordings are contemporary enough for AOR radio and rootsy enough to please any purist audience. So what do you do with a band like this. Well, you don't do anything except see them and buy their music.
Guitar Mikey has the heart of the "King of the Jungle" as he rules his blues with the wisdom to honor the tradition and the courage to pounce on a fresh idea. The spectacular results are deeply profound with lyrical insights, while still rocking with unbridled exuberance.
~ Dave Rubin - KBA winner in journalism
... read more
To paraphrase two giants of southern culture - Honeyboy Edwards and Emeril Legasse - Mikey's blues-rock gumbo is properly cooked, with his own special brand of hot sauce. He kicks it up a notch. Bam!
~ Michael Frank
"Out Of The Box"
... Really fine music, I like the singing and songs a lot and the arrangements are interesting, not generic. I like the traditional foundation with Guitar Mikey's modern touches. He should be proud. I'm proud to have a part in this fine CD.
~ Bob Margolin
He could have it all before he's twenty-five
~ Ronnie Hawkins
One of the best slide guitar players I've heard
~ Paul Butterfield
Hard to keep up with that boy
~ Luther Tucker
Even at sixteen he could play like a fifty year old blues man
~ Ian Thomas
It takes stones to put your instrument before your first name and make it legal. You hear two bars of Mikey's live record from the crossroads, and you know the man's papers are in order
~ Jeff Mahoney ~ The Spec
One thing for sure is that Mikey s guitar-playing is HOT!
~ Gary W. Miller ~ BluesSource.com
Mikey himself, is an awesomely deft guitarist. He can go from knock-down-the-walls power to gentle tenderness in a beat. He adroitly reaches to the roots of his music to the point where blues is infused into almost all forms of pop"
~ Gary Curtis ~ The Spectator
Toronto Needs the Real Thing. Rock Fans Are Missing Alot Without Guitar Mikey
~ P. Chiliac ~ The Newspaper
Special Thanks to
Pamela McMillan
,
Gerhard Pramor
&
Grant Movold
for their Guidance and Enthusiasm